Dinner No. 5: Sobremesa
The theme for dinner no. 5 in our "create dinner" series was "sobremesa" – a Spanish word that doesn't translate directly to English but describes a Latin tradition of conversation and relaxation that happens across the table after a delicious meal. Everyone remains gathered around the table, talking for hours after they are finished eating. I love this tradition and happen to agree it is usually my favorite post feast tradition. The concept reminds me of being home in New Jersey with all of our friends over. After I've cooked a big meal we all just sit around the table telling stories, reminiscing, laughing, drinking and being happy with stomachs full of food.
For our early summer dinner party Kate, the ultimate party planner, found a loft downtown nestled in the "Arts District" above a trendy boutique. This was our first indoor dinner and it was a perfect fit – the bright and open space was fitted with hardwood floors, industrial glass windows and a full recording studio in the corner (which we did not make use of). The long wooden table easily accommodated all of the 15 guests in attendance. This ambiance allowed for a more colorful palette for this dinner and the tablescape featured bright reds, blues and pinks.
Naturally when I thought of food for a Mexican theme my mind jumped immediately to tacos! They also happen to be an easy dinner party option because most of the fillings can be prepped ahead of time and reheated when you are ready to plate and serve the tacos. For appetizers, I settled on the classic dip duo of guacamole and salsa served with tortilla chips. While choosing the chip to accompany the dips can seem like a task as simple as grabbing a bag or two from the chip aisle at the grocery store – the chip can take the appetizer above and beyond the standard. I like a corn tortilla chip that's salty and sturdy enough to scoop without breaking inside the dip. Okay, please forgive me, I have spiraled too far into "the theory of a chip".
Since guests often have various food allergies or dietary restrictions I went with three different taco options in order to be sure to accommodate everyone. The first was a Mexican street taco – small corn tortillas doubled up and filled with seasoned, roasted chicken thighs and an onion salsa of sorts – a mixture of chopped onion, cilantro, jalapeno, lime juice and a bit of salt. The second taco option was braised Al Pastor tacos. While with this type of taco the meat is typically slowly cooked on a vertical rotisserie, I opted for braising the meat to make it more "at home accessible". The braised and seasoned pork was served with diced pineapples and an avocado-tomatillo salsa. For the final taco option I decided to include a vegetarian option. Sweet potato and black bean tacos were served on soft flour tortillas and accompanied by chili lime almonds, cotija cheese and smoky chipotle salsa.
Kimberly, our resident bartender, created a paloma sangria, starring, as you would expect with the theme, tequila! Paloma, a popular citrusy Mexican cocktail with grapefruit and lime, is combined with tequila and white wine for a refreshing summer drink.
This dinner in particular was even more special to me because one of my best friends from home Devin (who now lives in Arizona) flew out for the occasion. She has followed the dinners from the beginning and is one of the most creative people that I know so I was overjoyed that she was able to come to this one. We had a great weekend prepping together for the weekend and catching up. And, not only did Devin help with the cooking, she created the beautiful calligraphy name plates.
After everyone loaded up their plates with tacos served family-style on beautiful wood boards, we sat down to eat. To facilitate conversation, Kate gave each person a little card with a question they would answer then pick one other person to answer. It was a great way to start conversation and get to know people better. While plates were being cleared several of the women had set up little "boutiques" which gave people the opportunity to shop their products as well as mingle before dessert was served.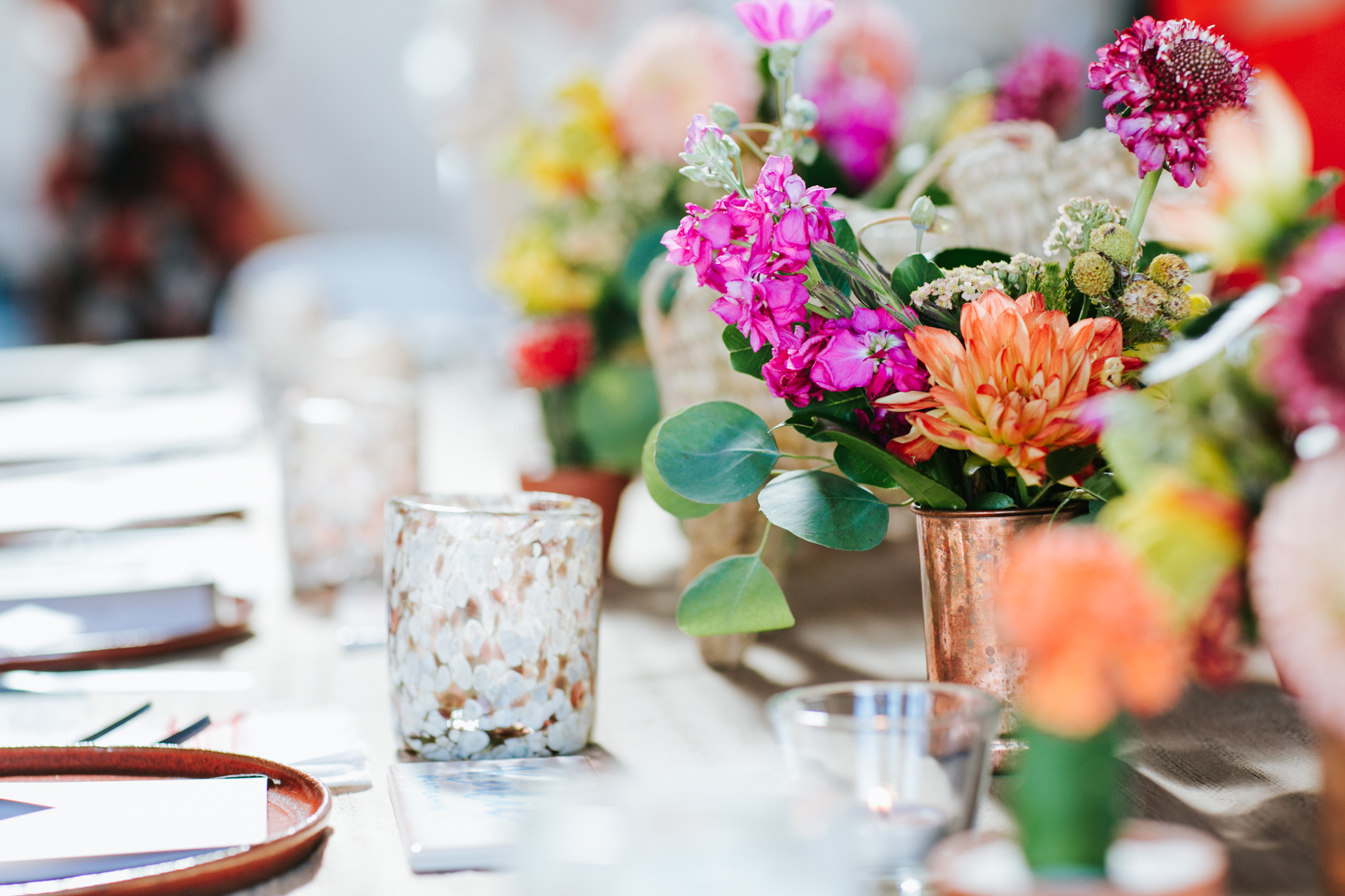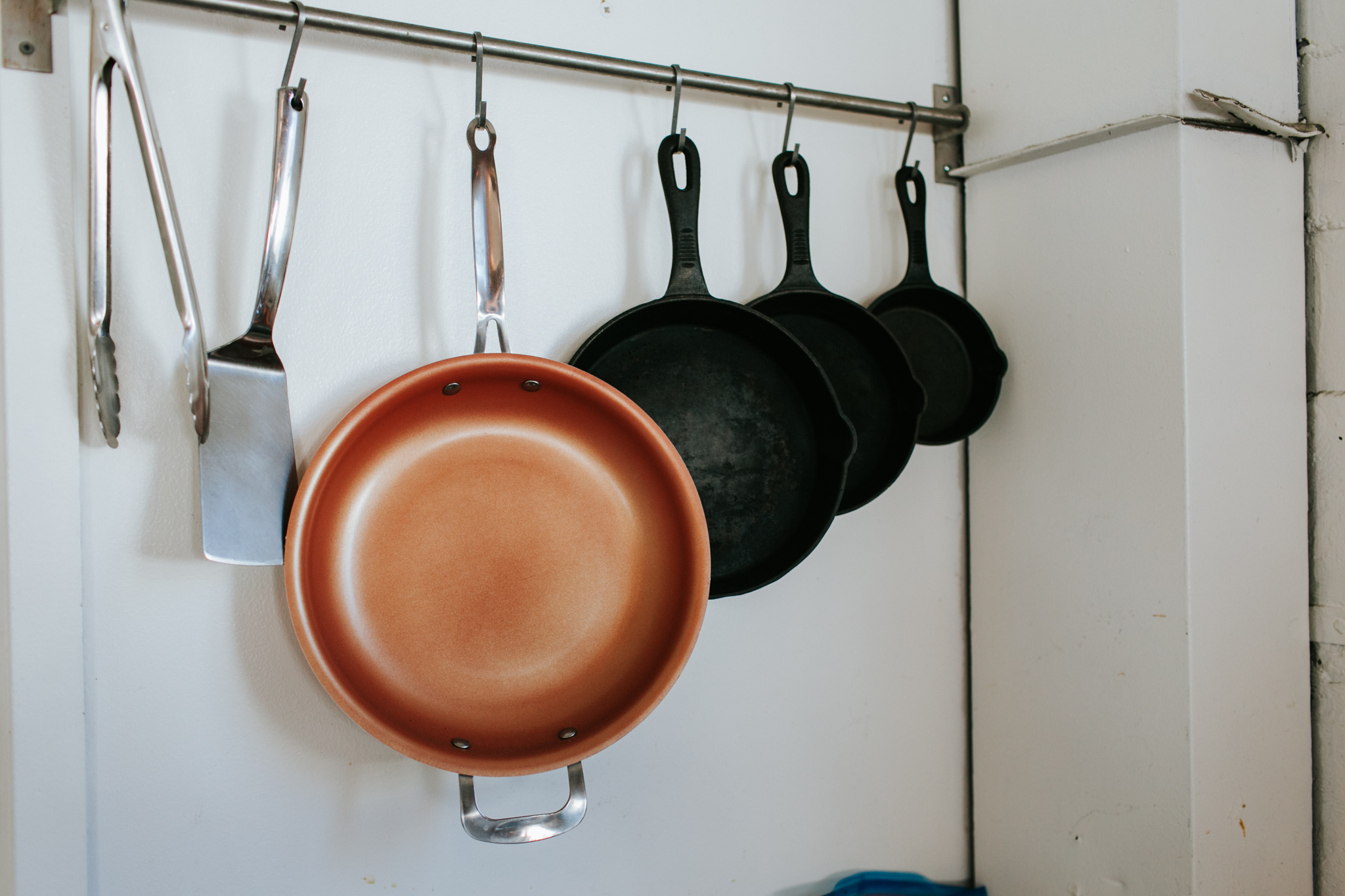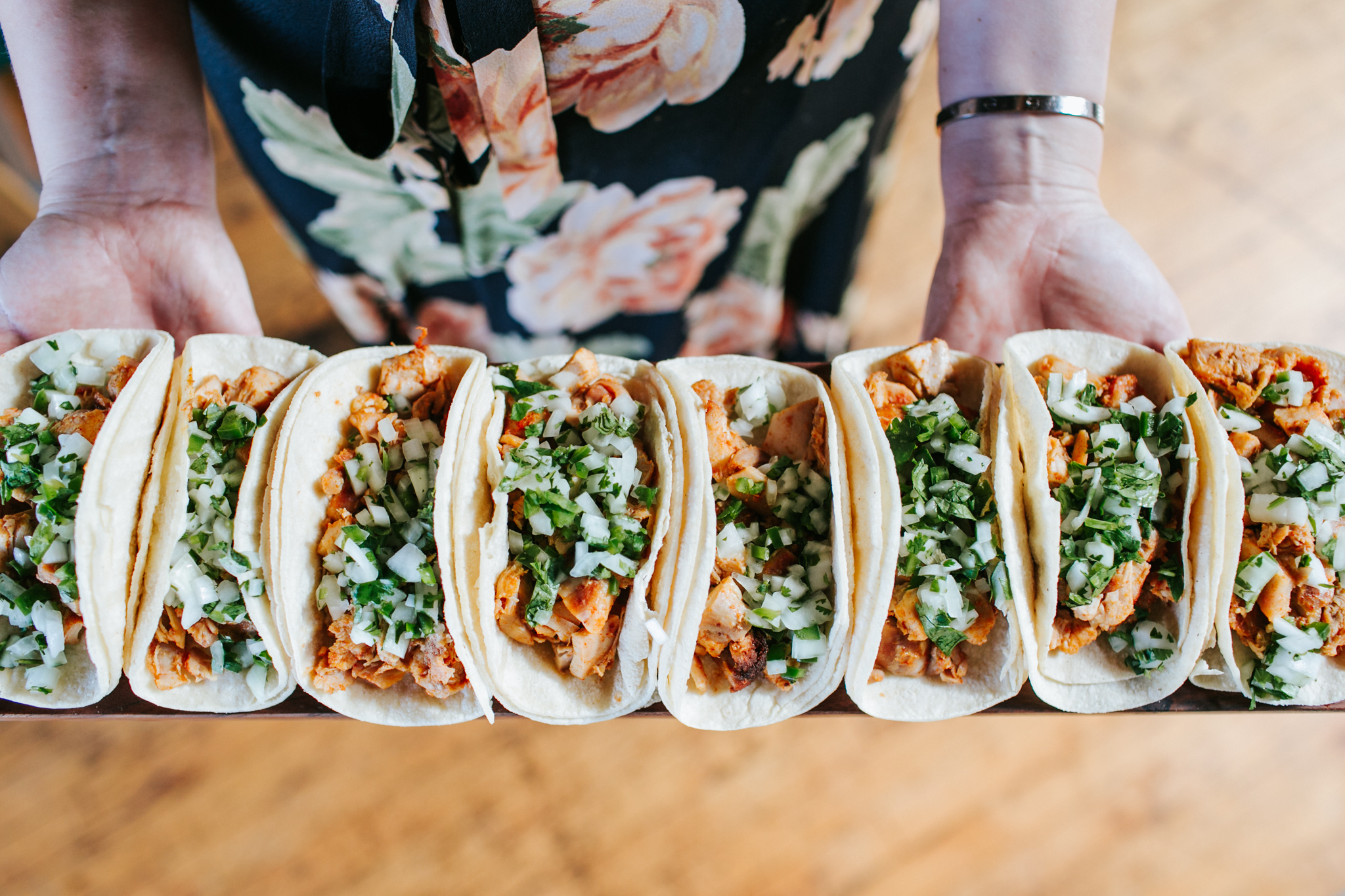 I was nervous that the cake wouldn't be enough for everyone so I served sea salt caramel fudge brownies as well. I was wrong, the cake was so rich and tall it ended up serving plenty as we cut it into smaller pieces but then who doesn't love a good brownie?! After passing around the dessert plates we gathered around the couch area and listened to Sofia sing and then Kimberly tell a story. We were full and happy sitting around listening to the two of them share their talents with us.
Conversation continued and as the night dwindled to a close we were all experts in the art of the "sobremesa."
I hope my menu below will inspire your next dinner party! You can also read about our dinner no. 5 guests and the various talents they brought to the table below.
Guest List
Kate Edwards - Kate was our general party planner and photographer (she also happens to be one of my favorite photographers, just look at her photos here).
Devin Ericksen – Devin is one of my best friends from home, we met in the 8th grade. She also happens to be one of the maids of honor in my upcoming wedding! She's a wedding coordinator at a venue in Arizona and flew out for the weekend. Apart from helping me cook she also made beautiful calligraphy name plates using tiles.
Elise Cahill - Elise is part of an extraordinary DIY blogger team called The Happy Hunters and created a unique lookbook with "in-theme" wardrobe choices that people could borrow for the occasion. She set up a little dressing area in the loft to try on outfits. Her sister, Korena Webber, who lives in Detroit, made custom necklaces for everyone to take home!
Katie Marble – Katie is the other half of DIY blogger team The Happy Hunters and brought the embroidered napkins and table runner that brought the tablescape together. She also took plenty of photos that can be seen on their blog!
Shirlee Fisher - Shirlee makes beautiful ceramics and created all the custom plates we used at the dinner! It's been cool to see her skills build over the time that I've known her – at dinner number 1 she was too nervous to make a plate – now she's making them for the whole dinner party! Of course I couldn't help but buy one to commemorate the dinner. I'm sure you will see it featured in plenty of posts!
Kimberly Bozeman – Kimberly, our go-to bartender, created the paloma sangria cocktail for the night. An aspiring comedy writer she recently started a blog, where she recounts hilarious and relatable experiences from every day life. After the woman who was supposed to tell a story fell ill and couldn't attend the dinner, Kimberly stepped in and read us one of her posts. I'm laughing just thinking back to it.
Heather Wong – Heather is a pastry chef at restaurants Sweetsalt & Cascabel based in Toluca Lake. I loved getting to talk to her about her work in kitchens all over and her the influences in her sweets. She made these unreal Mexican wedding cookies for everyone to take home called polvorones with pecans and rolled in pulverized freeze-fried strawberry dust and hibiscus leaves. I have been trying to ration them so I don't eat them to too quickly.
Kristin Violet – Kristin is a graphic designer who made the beautiful and fun menus for the night. She always does such an amazing job period I have saved all the ones she's made so that I can frame them in my apartment!
Amy Foster – Amy is a talented florist who provided the beautiful colorful flower arrangements for the night. She recently started her own company, Hello Honey Flower Co. which specializes in events, weddings and weekly deliveries around Los Angeles!
Emily Giunta – Emily owns an online store, Hello Crisp, which sells an assortment of curate woodwork, tableware, serveware and more and she was kind enough to loan out some of her stock for the night. She is a trained chef who studied in Italy and got the idea for the store when her retired father taught himself woodworking.
Elli Papayanopoulos – Elli was our photographer for the night. She started her own photography company after years working in finance. She decided to follower her passion and does all types of photography: lifestyle, music, landscapes and weddings, you can check out some of her work here.
Emily Ellis Fox – Emily owns a boutique called Materia that imports pieces from Mexico (what a perfect fit for this dinner!). She set up a little pop-up boutique that allowed guests to shop some of her favorites (that cute wicker bull on the table is from her store).
Sofia Draco – Sofia is a Swedish/ Greek jack-of-all-trades, she's an artist, photographer and musician who sang for us accompanied by guitar following dinner. She even played a song for us that she only happens to sing every few years. Her voice was so beautiful I want to add her to my Spotify playlist!
Lindsay Garcia – Lindsay is a social worker living in Long Beach who hand painted little pots filled with succulents that we could take home following the event! We got so much swag from this dinner!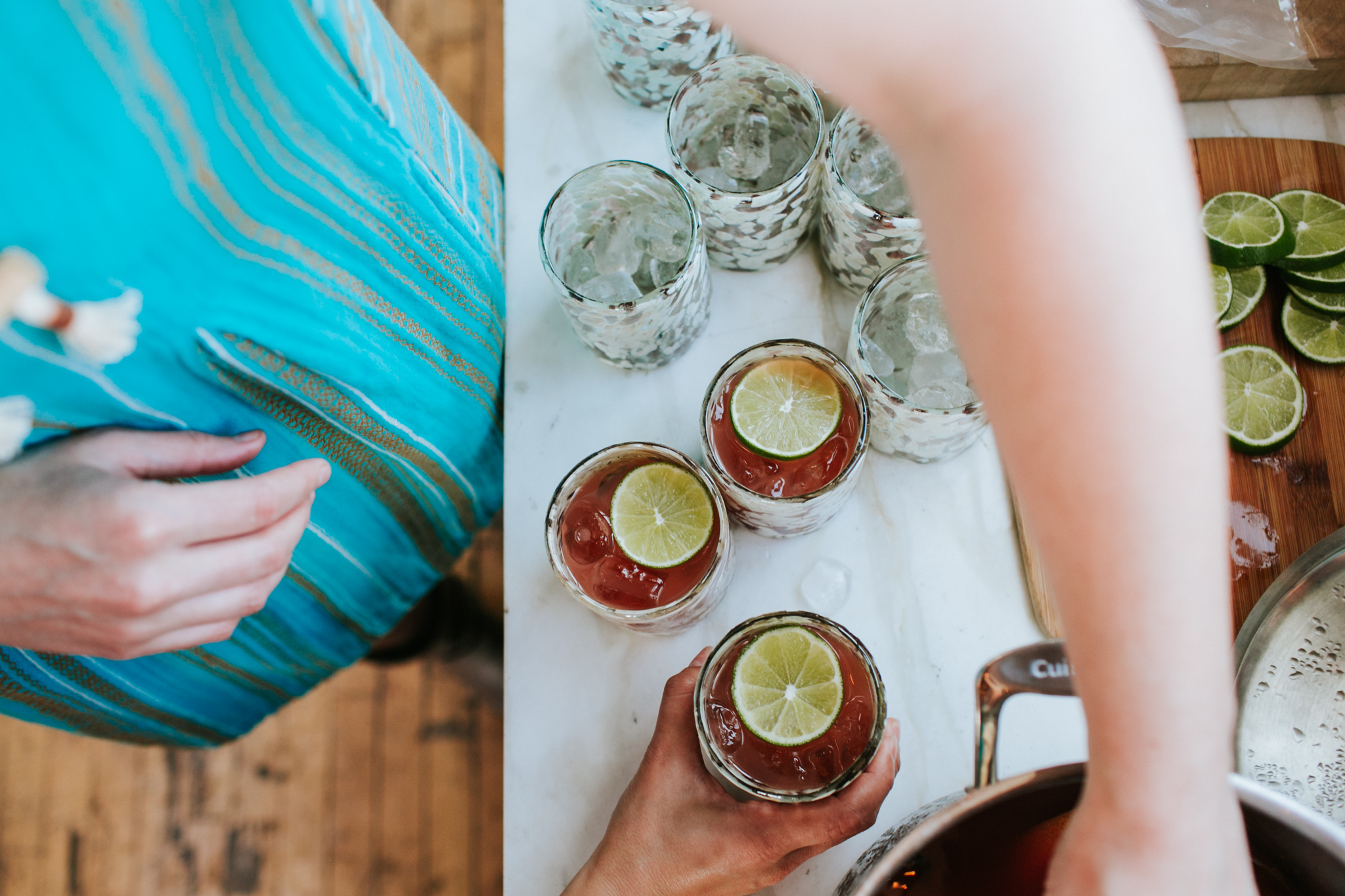 As always, the week following the dinner (after a little needed relaxation after catering) I can't help but think of all the amazing women I met, the conversations I had and the general blissful feeling from being a part of such a unique dinner party. Reflecting back on all the Create dinners I have been a part of, I am lucky to say that many of the women I have met have become not only acquaintances but close friends and the dinner has also led to great business relationships as well.
Want to meet some cool creative women and share your talents? Now taking applications for Dinner No. 6 which will be hosted on Sunday, September 17th. Apply now on createdinners.com and tell your friends!